For spring break this year my mom and I travelled to the beautiful country of Belize. We stayed in Hopkins Bay, a relatively small town right on the water. Our stay was short, only three full days with two days of travel, but it was well worth the trip and we had a wonderful time! Hopkins Bay was a great place for us to stay because there were plenty of local restaurants, it was an easy bike ride from the resort into town, and the entire stay was very relaxed.
Upon arrival in Belize there are two options to get to Hopkins Bay. Option one is to take a van or car, which lasts at least three hours. Option two is to take a tiny plane, which lasts about half an hour. We took option two, and I am so glad we did. It was a beautiful view, quick and easy, and a great way to see the country and ocean from the air. When we arrived at the HopkinsBay Resort, I was truly overwhelmed by how kind and accommodating the staff were. It was a great first impression of the resort and was a great representation of what the rest of our stay would be like. The customer service was impeccable at the Hopkins Bay Resort. It is a small resort, and is organized into villas. Each villa has three rooms, one on the top floor and two on the bottom. The top and bottom are separate entrances, so my mom and I stayed in the top room. If a family needs two rooms, they would stay on the bottom level which has a living room and kitchen area, or it is possible to book the whole villa. The rooms are modest but comfortable, and we were lucky to have one of the oceanfront villas. We had a lovely balcony and were right on the beach. It was not fancy, but I thought it was perfect. The resort has two pools, one restaurant, a pool-side bar, bikes, kayaks, a sand volleyball court, and more. It is not a huge or fancy resort, but it has great views, is comfortable and relaxing, and has exceptional customer service.
The Hopkins Bay Resort made it super easy for us to plan excursions. The schedule was posted at the front desk and our bookings were easily taken care of. Our first full day we did the Actun Tunichil Muknal Cave Tour, which was a full day excursion and is definitely more suitable for physically active and adventurous travellers. We had a lovely hike through the forest, waded through rivers, and had a guided tour in the ATM Cave. Our guide was very knowledgeable, and I think we got lucky that we had a veteran guide leading us. He did his best to space us out from the rest of the crowds. Parts of the cave were underwater, so it was definitely a wet tour and we were wading for most of it. The cave was absolutely stunning, and it was such a fun adventure. For any history nerds like myself, this tour was especially great because of all of the incredible Mayan artifacts. We were even able to see a fully intact Mayan skeleton! One thing I appreciated about this tour was that no photography was allowed. So often at tourist attractions everyone just takes photos instead of enjoying the experience, and frankly I thought this was a great idea. The tour was a great combination of adve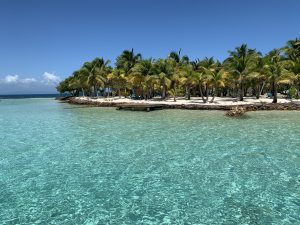 nture and history, but definitely for those who are comfortable with physical activity. Lunch was provided after.
For our second day, we of course went snorkeling. Belize has some of the greatest reefs in the world, and despite being a bit scared I was really excited. We again booked this excursion through the resort, and it worked out wonderfully! Underwater Belize was a great company and I'm so glad we ended up going with them. The staff was fun and engaging, and despite my prior worries I never felt unsafe or unsure. On our boat my mom and I were the only snorkelers, and everyone else was scuba diving. Because of this, we were lucky because we had one guide to ourselves. We were dropped off at two different points to snorkel, and we had lunch in between. It was such a fun experience, we saw beautiful marine life, and our guide was helpful in identifying different fish and coral. Overall it was an awesome experience and I'm proud to say I got over my fear of snorkeling!
After a busy first two days we just chilled during the last day, and it was perfect. We played cornhole, sunbathed, and kayaked (kayaks were provided by the resort), and it was a great end to the trip! The Hopkins Bay Resort is a great place to stay truly because of how great the staff were. It was nice to not feel like I had to dress up for anything, and it was the perfect place for a relaxing stay.
Submitted: Emma Murphy, May 2020