Each destination in the Caribbean has its own character. We'll find the best match for you.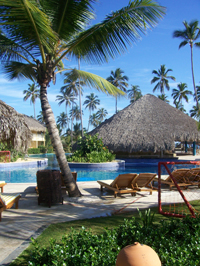 When most of us think of tropical vacations we picture ourselves on an island, lying on the beach with an umbrella drink in hand. Traveling with kids can change this daydream but it doesn't have to! I've found a number of family-friendly resorts with superb children's programs. Mom and dad enjoy some quiet time together, the kids enjoy the beach party of their dreams and there's still plenty of quality family time for all. And once the kids have grown up a bit, we can help match you with the perfect place providing endless activities for teens! All-inclusive resorts take away the worry of finances once you are on vacation. Your lodging, food and drinks are included in your initial vacation budget. In most cases, a kids program and entertainment are included as well. Some families enjoy spending their whole vacation at the resort, never feeling the need to leave. For those that want a little more adventure or cultural experiences, I can book excursions with transfers from your resort.
You can choose one island for your Caribbean family vacation or a cruise that has multiple ports. To find the best resort and Caribbean or Mexico Vacation for you, please contact Adventure With Family.
ANTIGUA:
Folklore says Antigua, in the heart of the Lesser Antilles, has a beach for every day of the year. Expansive, modern properties offer fabulous facilities, island-style entertainment and bustling casinos. And watersports are on everyone's activities list. 
BAHAMAS:
No rules here, just relaxation and recreation on land and sea when the spirit moves you. Interesting and excellent hotels and family-run guest houses are interspersed with touches of history and hundreds of friendly faces.
GRAND CAYMAN:
Relax on the white-sand beaches of famous "Seven Mile Beach", participate in numerous water-sports, and visit the charming island capital of Georgetown. Enjoy the nightlife that suits your mood, dancing at the discos or walking with your love on the beach.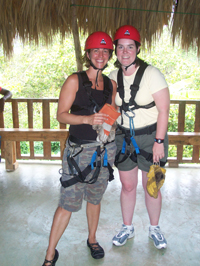 JAMAICA:
Discover the many sides of Jamaica, a unique blend of culture, character and excitement. The ever-popular "All-Inclusive" resort concept began here, and no one does it better than Jamaica. Choose from a great selection of Beaches resorts. 
DOMINICAN REPUBLIC:
This island destination boasts large resorts with superb facilities, including golf and conference centers, on and near its spectacular beaches.
ST LUCIA:
One of the most unspoiled islands of the Caribbean, St Lucia abounds with rugged mountain peaks, verdant rain forests, and stunning beaches. For the explorer in you, take a bike ride along the waters, trek through an exotic rain forest, or horse back ride on the beach. 
ST THOMAS:
Welcome to America's Caribbean Paradise. St Thomas has lots of excitement, great duty-free shopping, championship golf courses, gorgeous beaches, and never-ending nightlife. The best part for US travelers is there is no passport requirement!
TURKS AND CAICOS:
Discover the Caribbean's best kept secret, this unspoiled retreat has over 200 miles of deserted stretches of ivory sand beaches surrounded by coral reefs and the aquamarine sea. If a quiet island retreat, lazy days sunbathing, or active days scuba diving sounds appealing, Turks and Caicos is your vacation spot.
MEXICO:
With a Native American heritage and a distinct Spanish flavor, Mexico is vibrant, colorful and unique. Its varied terrain ranges from cactus-studded deserts to white sandy beaches and blue waters, tropical rainforest and jungle-clad hills to steep rocky canyons and narrow gorges, and from snow-capped volcano peaks to bustling cities.

Some of my most popular Mexican vacations include:
The Riviera Maya, Cancun, Playa del Carmen and Cozumel with their stunning beaches on the east coast of the country. From these destinations, you can partake in excursions to Mayan archeological sites such as Tulum and Chichen Itza, go on snorkeling, zipline, and jungle adventures. For more time on the water, you can go deep sea fishing or do a dinner cruise on a pirate ship. 
Los Cabo and Puerto Vallarta on the western side of the Mexican peninsula. Cabo lies at the tip of the Baja Peninsula and is bustling with activity, a well-known night life and fabulous deep sea fishing.Puerto Vallarta lies farther down the coast, and gained popularity during the 50's when Hollywood stars such as Elizabeth Taylor began vacationing there. The Riviera Nayarit is the 100 miles of coastline north of Puerto Vallarta that is a truly up and coming family vacation spot! Puerto Vallarta and the Riviera Nayarit have their own share of "must do's", such as visiting the beautiful beach of Las Caletas, exciting mountain tours with ATV rides and zip-lining, whale watching in the winters and sea turtle rescues along the coast. 
Travel Tip: Many kids love to collect things, so give the children a special box or pouch to place found objects like shells, stones or feathers. Along with pictures, these keepsakes are great ways to remember the trip. Speaking of pictures, older children can be given their own disposable camera for the trip. The additional responsibility is good for the child and will provide a new way for them to participate.
Contact us to get started. I promise to return your phone calls and emails promptly.