A family vacation in the mountains is one you and your children will never forget.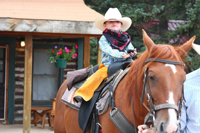 I first saw the Rocky Mountains at the age of 14 when I came to Colorado for a week of summer camp. What an adventure! For the first time in my life, I went white water rafting, repelling and four wheeling. I also rode horses, which was a whole different wonder from the crest of a mountain. There is nothing like stargazing at night in the mountains and feeling like you are such a small part of the bigger world.
One week was definitely not enough, so I went back to work at a camp the next year and then spent my summers during college working at a guest ranch in northern Colorado.  Since then, our family has done many vacations out west, soaking in the landscape and the many adventures that come with it.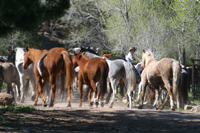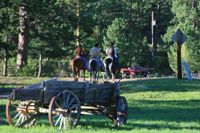 Guest Ranches: In my time working at a guest ranch I met hundreds of guests and I can honestly say that I have never met an unhappy guest. We would have people come back year after year because they said it was their best vacation ever. Guest ranches are the "all inclusive" of the Rocky Mountains. During your week stay, you will be provided with a horse to ride each day, if you wish. You will also have other ranch activities included, such as nature hikes, fly fishing, swimming, trap shooting, etc. There are often off-site activities offered as well, such as pack trips, white water rafting or a van trip to other tourist destinations in the area. All meals are included and offer something for everyone, even the pickiest of eaters! Most guest ranches also offer children's programs with activities designed for various age groups. (This allows parents to have some free time as well!) During the evenings, you'll likely find yourself at a square dance, hay ride or singing by the campfire. You can participate in as much or as little as you like, making this a perfect family vacation package!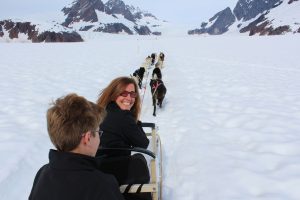 Alaska: Epic wildlife, soaring summits, and tundra stretching as far as the eye can see: everything is bigger in Alaska. Journey to the far north—where the sun never quite sets in the summer—and make the most of long days on hiking and wildlife-viewing excursions in the Alaskan wilderness. Explore Denali and Kenai Fjords National Parks, where kids will set out on educational adventures to claim their junior ranger badges. 
There is nothing more amazing than a helicopter ride up into the glaciers in the middle of the summer to experience dog sledding with Iditarod training team!  Alaska vacations can be done by land or sea or both.  For my son's 13th birthday, I took him on a cruise through the inside passage, roundtrip from Seattle.  My son doesn't love cruising, but this trip was all about the port adventures!  We spent time looking through all the options to make sure we had a different experience in each location.  We went zip lining in Ketchikan after seeing the infamous Lumberjack show.  IN Skagway, we went on a hike, bike, float trip.  In Juneau, it was a helicopter ride up the glaciers to go dogsledding.  Alaska has so much to offer the adventurers, nature lovers, and wildlife enthusiasts.
Not a cruiser?  No problem! Alaska can easily be explored by land either independently or with a large or small group tours.  The Alaska Railroad is a great way to get from place to place while still enjoying the scenery.  Additionally, there are great family focused options for group tours.  If you like larger tours, Adventures By Disney offers high end luxury and brings the destination to life in a way that all families enjoy!  G Adventures National Geographic Journeys offers a small group more intimate experience that is best geared for adventure seeking families looking for a meaningful way to explore the world together.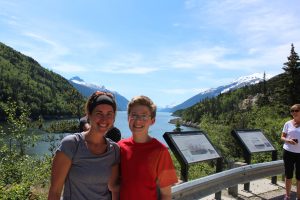 We can customize any itinerary to fit our client's needs.
Travel Tip
Altitude often affects many people. Remember to drink a lot of water to stay hydrated!
Contact us to get started. I promise to return your phone calls and emails promptly.